THE X10
The work light redefined.
The ultimate work light. Engineered to handle some serious abuse in any industry. Just one X10 outshines several competitor lights combined. Delivers over 10,000 lumens for only 70 watts, with 12-24V DC versatility. Perfect for dozers, haul trucks, graders, pickups, and excavators.
The Undisputed Heavy Duty Champion of the World
Need proof? See below!

Waterproof
The X10 is not afraid of water. It is comfortable being submersed or taking a hot high-pressure shower. Double-sealed and rated IP 6K9K, the highest possible waterproof rating. Dust and water don't get in. Period.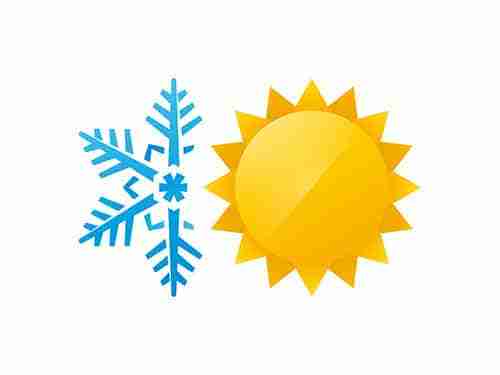 Cold &
Heat-Proof
The X10 is engineered for extremes. Operates effortlessly in temperatures from -40°F to +185°F (-40°C to +85°C). Field tested in scorching Arizona deserts and frigid northern oil fields. Poised to battle magma and liquid nitrogen next.
Burnout-Proof
Miniature Sun Inside
RDC™ technology by Raycore is light-years beyond conventional LED. The heart of the X10 is its ruggedized diode core. No delicate bulbs. No filaments. No weak seals. The diode core will truly reach its longevity potential of 5+ years of continual operation. The sun will come out tomorrow, and the X10 will show up for work. Count on it.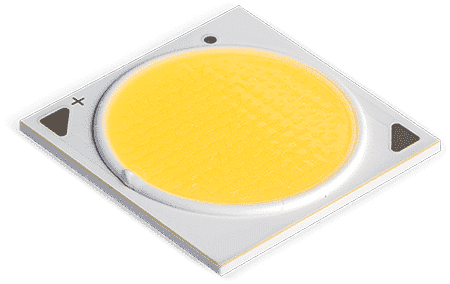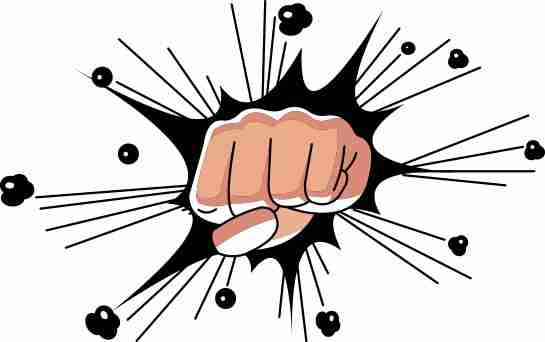 Impact-Proof
Won't Crack Under Pressure
Raycore expects our lights to be placed in harm's way. That is why we selected a component of bulletproof glass to serve as the front lens. For good measure, we added a second lens, behind the first, for double-seal protection. In the rare event of a cracked lens, you can simply replace the detachable face – the sealed enclosure will remain intact. And don't worry about ever hurting the aerospace-grade aluminum housing. It absorbs punches from flying rocks and debris with a smile.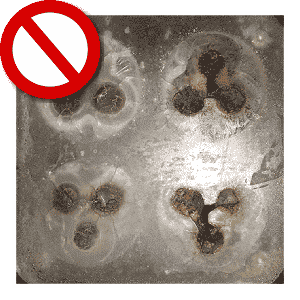 (Competitor light shown above)
Corrosion-Proof
Corrosion resistance is an area where most light manufacturers cut corners. Not Raycore. The X10 features a stainless steel trunnion bracket, which will never rust. All the nuts and bolts are stainless steel. The housing features a non-stick powder-coat finish to resist grime. The front lens is coated with an advanced formulation that repels harsh chemicals. A specialized UV treatment prevents the lens from yellowing. Say goodbye to rusty, hazy lights.
Idiot-Proof
The X10 features familiar Deutsch-type DT connectivity. The X10 box even includes the DT counterpart, pre-crimped to a 12" (30.5 cm) SJOOW 16 AWG cable, with clearly labeled raw ends for easy installation. There is no wiring guesswork. The X10 circuitry is equipped with under/over voltage protection and reverse-polarity safeguards.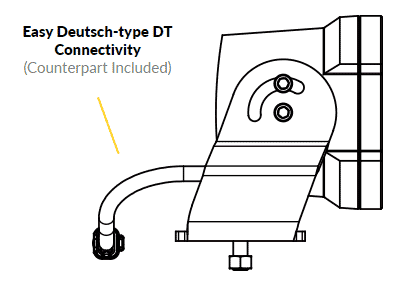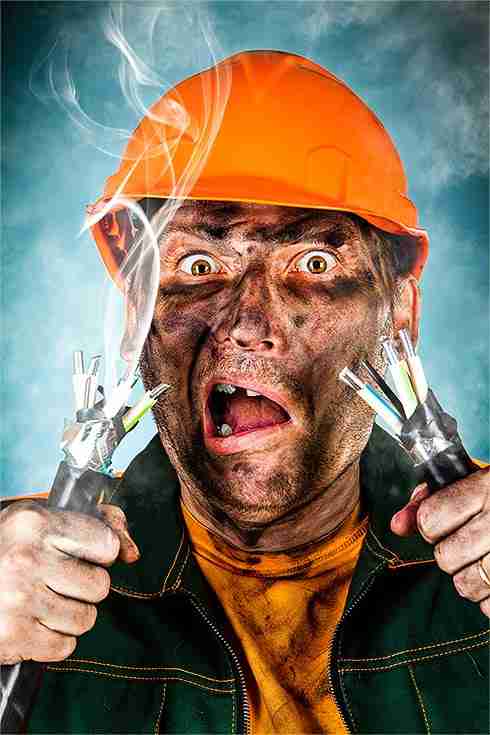 Mounting the X10 is easy with the supplied stainless steel nuts and bolts for the bracket. Plus, there's plenty of bracket space to drill additional holes and sizes to your liking. Loosening the side bolts allows easy adjustment to the desired tilt. Most importantly, the light holds its tilt position perfectly after tightening.
Vibration-Proof
Heavy shock and vibration are no problem for the X10. The 1/4" (6.4 mm) stainless-steel trunnion bracket never cracks or slips out of position – not even when mounted to a convulsing paint shaker for several days.
(Spoiler alert: Your typical pedestal-mounted light won't survive that kind of vibration.)
X10 SPECS
P/N: X10-H-70W12-24V
DC Input: 12V, 24V
Power: 70 Watts
Current: 2.9A @ 24V DC
Raw Lumens: 10,900 lm
Connectivity: Deutsch DT (Counterpart Connector Included)
Weight: 7 lbs. (3.2 kg)
Dimensions: 6.1" x 5.4" x 5.8"(15.5 cm x 13.7 cm x 14.7 cm)
Adjustable Tilt: +30°, -95°
Lumens per Watt: 158 lm/W
Beam: Spot/Flood Hybrid
Waterproof: IP6K9K
Color Temperature: 5,000° K (Daylight Equivalent)
Raycore Ruggedized LED Core Technology™
Operating Temp: -40°F to +185°F (-40°C to +85°C)
Circuit Protection: Vibration (Knowles RMX Spec), RF Safe (EMC-
shielded), Reverse Polarity, Under/Over Voltage, Thermal-adjusting
Mounting: No-Slip Stainless Steel Trunnion Bracket
Housing: Heat-Treated A356-T6
Finish: Mil-Spec Powder Coat, Anti-Corrosive
Lens: Clear Makrolon® Polycarbonate, 200x Stronger than Glass, Anti-
Clouding Technology Field-Serviceable for Lens Replacement and/or
Color Lenses (Sold Separately)
Reliability:
Instant On/Off
LED Rated Life: 55,000+ Hours (LM-80 standard)
Warranty: 2 Years, New Replacement
Years 2-5: Low-Cost Repair or Return for Core Value (Contact Dealer)
U.S. Patent 9,625,127 B2
Origin: Made in the USA
X10 DIMENSIONS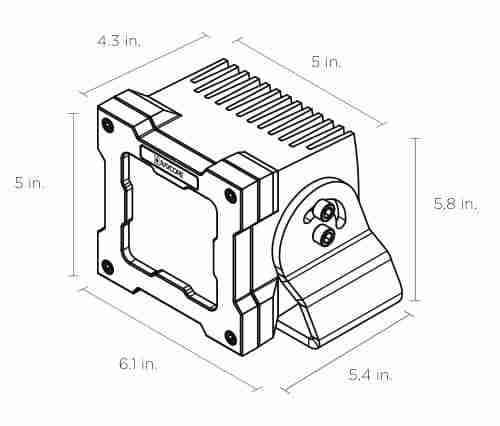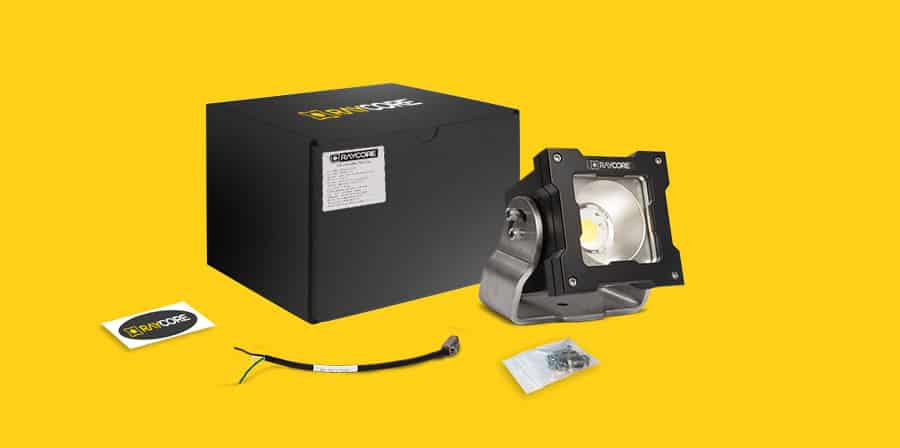 WHAT'S IN THE BOX?
X10 Heavy-Duty Work Light with Mounting Bracket.
Mounting Hardware Bag (Stainless-Steel Nuts and Bolts).
Deutsch-type DT counterpart to light's pigtail, pre-crimped to 12″ (30.5 cm) SJOOW 16 AWG cable, with raw ends.
Product Information Sheet
Raycore Sticker
EXPERIENCE THE
FUTURE
OF INCREDIBLY BRIGHT
LIGHT