Auger Torque Hedge Trimmer: The Ultimate Excavator Attachment
When it comes to landscaping and garden maintenance, the Auger Torque Excavator Hedge Trimmer stands out as the perfect solution for excavators ranging from 1.5T to 8T.
Transforming Excavator Performance
At Mouse Valley Equipment, we understand the power of a versatile and efficient tool. The Auger Torque Excavator Hedge Trimmer brings just that to your excavators, enhancing their functionality and boosting productivity. The trimmer, which can be easily attached to excavators between 1.5T to 8T, offers a neat, accurate, and high-performance solution to manage tall trees, deep hedges, and hard-to-reach shrubbery.
Elevate Your Excavator's Capabilities Today
Make the most of your existing machines by enhancing their versatility with the Auger Torque Hedge Trimmer. As a leading distributor of Auger Torque attachments in the UK, we at Mouse Valley Equipment Ltd are committed to providing high-quality, efficient, and durable solutions for all your landscaping needs. Discover the difference an excavator hedge trimmer can make in your daily operations today.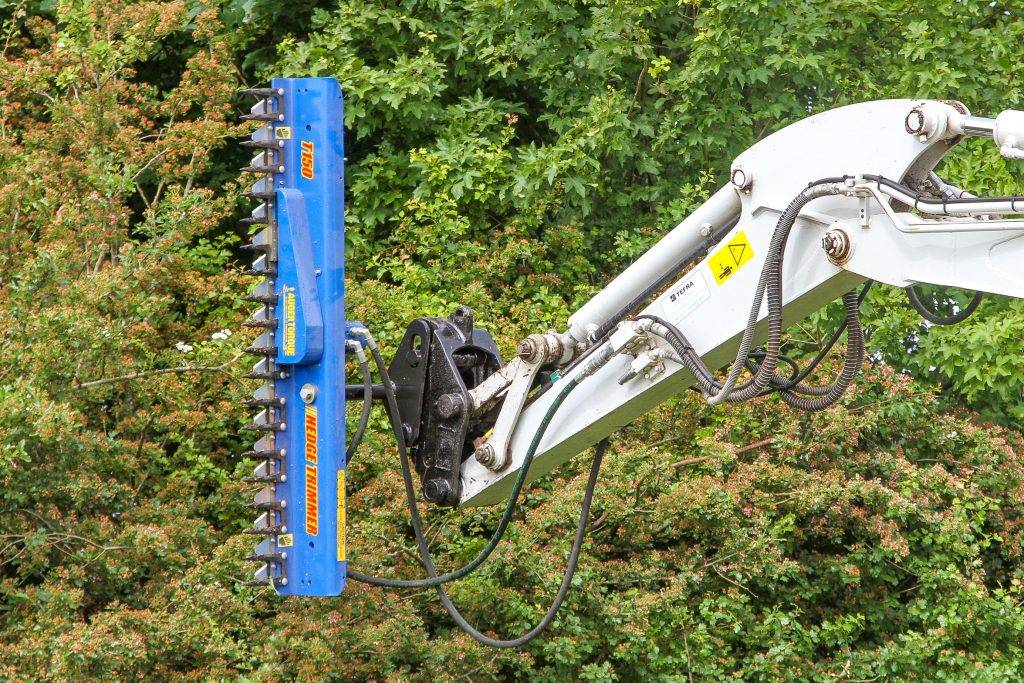 The Power of Versatility
With a variety of motor sizes available, this hedge trimmer can be customized to suit your specific application needs. Whether it's trimming long grass, brushing, or manicuring hedges, this attachment has got you covered.
Extended Reach, Enhanced Efficiency
The hedge trimmer boasts an impressive 1.5m bar length and an additional 1.0m extension length. This design provides an unrivaled cutting reach of 2.5m, facilitating precise and efficient trimming. Such extended reach also ensures safe access to taller trees and deeper hedges, adding to the safety quotient of your operations.
High Performance, Low Maintenance
The Auger Torque Hedge Trimmer excels not only in performance but also in durability. With a maximum cutting diameter of 40mm and the provision to replace individual cutting teeth, it is built to handle rigorous workloads while requiring minimal maintenance.
Enhancing Durability and Convenience
Embodying extreme durability, the hedge trimmer is designed to withstand the toughest working conditions, ensuring longevity and reliable performance. Additionally, the hedge trimmer comes with included hoses, ensuring a hassle-free setup.
Order Your Auger Torque Hedge Trimmer Now!
Ready to revolutionize your landscaping work with the powerful Auger Torque Hedge Trimmer? Our team at Mouse Valley Equipment Ltd is standing by to assist with any questions and help you select the ideal attachment for your excavator. Don't hesitate to reach out to us today. You can fill out our contact form at mousevalley.com/contact-us/ or give us a call or send a WhatsApp message to 01555 476806. Let us support you in enhancing your equipment's versatility and productivity. We look forward to hearing from you!