Description
Our special Auger Torque Drill and Breaker Package Deal suitable for excavators from 1.5ton to 2.5ton. We are offering an all-in-one package deal ideal for small excavators in the 1.5ton to 2ton range.
The X2500 Earth Drill and KSB2 Breaker is proven to work on all excavators from 1.5-2ton
Please note : We may have a 3/4 working day lead time
Included in our package deal:
X2500 Earth Drill
Double Pin Cradle Hitch – Fabricated to suit your excavator
Tungsten Auger up to 300mm
Pair of Hydraulic Hoses for Auger
Auger Torque/Kinshofer KSB2 Breaker with Hitch Bracket
2 Tools (Chisel + Moil Point)
Pair of Hydraulic Hoses for Breaker
All you require is hydraulic couplings to suit your machine
This package deal would be ideal for the following excavators (as a guideline):
JCB 8015
JCB 8018
Kubota KX014
Kubota KX016
Takeuchi TB016
Takeuchi TB23R
Takeuchi TB216
Terex TC20
Any excavator from 1.5t to 2.5t weight class
Drive Unit – Auger Torque X2500 Earth Drill
High quality hydraulic motors, output shaft bearings which are 50% larger than the nearest competitors comparable drive and the use of only high grade materials mean that your Earth Drill will have a long, reliable service life.
Standard with the X1500-X2500 series and unique to Auger Trque, the Non-Dislodgement Shaft is a single piece drive shaft assembled top down and locked into the Earth Drill housing. This design guarantees that the shaft will never fall out, making for a safer work environment, not only for the operator but also any surrounding workers. This is a MUST-HAVE FEATURE for any safety conscious company.
Torque is amplified by using the unique Auger Torque planetary gearbox. This system allows the motors output torque to be multiplied with extreme efficiency as well as ensouring the durability and reliability you need.
Mini excavators 1.5T to 2.8T.
Oil Pressure Range: 70 – 240 Bar
Torque Range: 830 – 2847 Nm
Oil Flow Range: 27 – 65 lpm
Speed Range: 36 – 87 rpm
Hub Options: 65mm Round (STD)
Height: 585 mm
Width: 200 mm
Weight: 48 kg
S4 Tungsten Auger
Overall length: 1.2m
Fully flighted: 950mm
Diameter: Up to 300mm
To Suit X2500 Earth Drill
Overall Length given includes the auger fitted with wear parts.
Auger Range: S4
The S4 Range of Augers has been specifically designed for Mini Loaders, Skid Steer Loaders & Excavators up to 5T. All Auger Torque Augers are built from high grade steel and incorporate many features that will allow you to work more efficiently and will make your job easier. Shallow pitch flights ensure they will cut with maximum efficiency and, most importantly keep the spoil on the flights when removed from the hole.
Heavy duty tubes, constant spiral cut as well Auger Torques unique Shock Lock™ Tooth Locking System, which will guarantee that you will never lose your auger teeth when reversing your auger, have given Auger Torque Augers their industry leading reputation.
Double Pin Cradle Hitch
The Double Pin Cradle Earth Drill hitch is supplied in loose pin version to suit standard and quick hitch solutions on most excavators & backhoes. The use of a Cradle hitch is recommended by Auger Torque as it will eliminate Auger swing during dirt shake off, will enable you to safely transport your Earth Drill and Auger on site and will also help you in lining up your holes with precision. No mechanical parts or dampers mean that even if your Earth Drill and hitch have a tough life ahead of them you will not have to worry about costly replacements or breakdowns.
Just like all Auger Torque products only the highest grade steel is used in the fabrication of this style hitch. Please note all hitches are made to order and can sometimes carry a lead time of 3/4 days. Please contact us for availability
WE WILL NOT BE BEATEN ON PRICE, IF YOU FIND THIS PACKAGE CHEAPER ELSEWHERE – WE WILL BEAT IT!
AUGER TORQUE/KINSHOFER KSB2 BREAKER
All Kinshofer Breakers are supplied with Standard Head Bracket (fabricated to suit your excavator) and 2 x Tools (Chisel and Moil)
All breaker head brackets are fabricated to order with a lead time of approx 3-4 working days
1 Year Manufacturer warranty as standard
Breakers supplied in Kinshofer Grey paint colour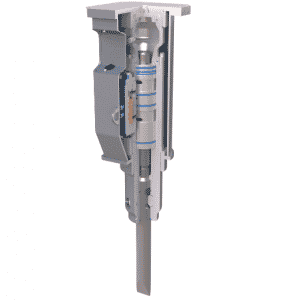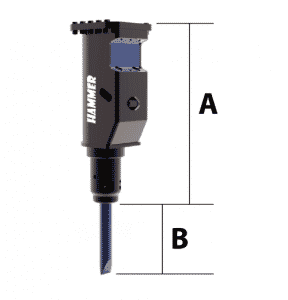 Carrier Excavator Weight – 1.2-2t
Weight – 100Kgs
Chisel Diameter – 45mm
Oil Flow Rate – 15-30 lpm
Oil Pressure – 110 Bar
Blows per Minute – 800-2300
Energy per Blow – 400J
Max Back Pressure – 30 Bar
Input Hose Diameter – 1/2″
Output Hose Diameter – 1/2″