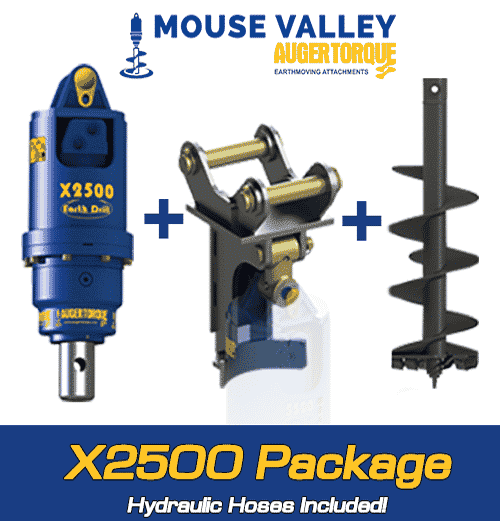 What applications can the Auger Torque X2500 unit be used for?
The X2500 package with cradle hitch is a perfectly suited mini digger auger package for 1.5t – 2.8t excavators. Supplied with 1x tungsten auger up to 300mm diameter. This is the best solution for drilling holes with your mini digger.
Commonly used by fencing contractors, building contractors, landscapers and hire fleets.
The most popular excavators we fit this package to are Bobcat E19, Takeuchi TB216, Takeuchi TB219, JCB 8018 mini excavators.
How do I set this up on my machine?
This auger package is easily fitted to your mini digger. The cradle hitch, drive unit and augers will be delivered on a pallet. The cradle is easily fitted to the Auger Torque X2500 earth drill by a single bolt on the top of the drive, secured by a 32mm nyloc nut, this should be tightened with an adjustable spanner.
Hydraulic hoses are supplied with the X2500 Earth Drill – these need to be fitted to the drive unit with a 27mm spanner. The supplied ½" hydraulic hoses will be fitted with a male-male adapter, this should be fitted to the X2500 side of the hose.
For a full guide to fitting the hoses on an Auger Torque mini digger earth drill please see our other post – How to fit hydraulic hoses on your Auger Torque X1500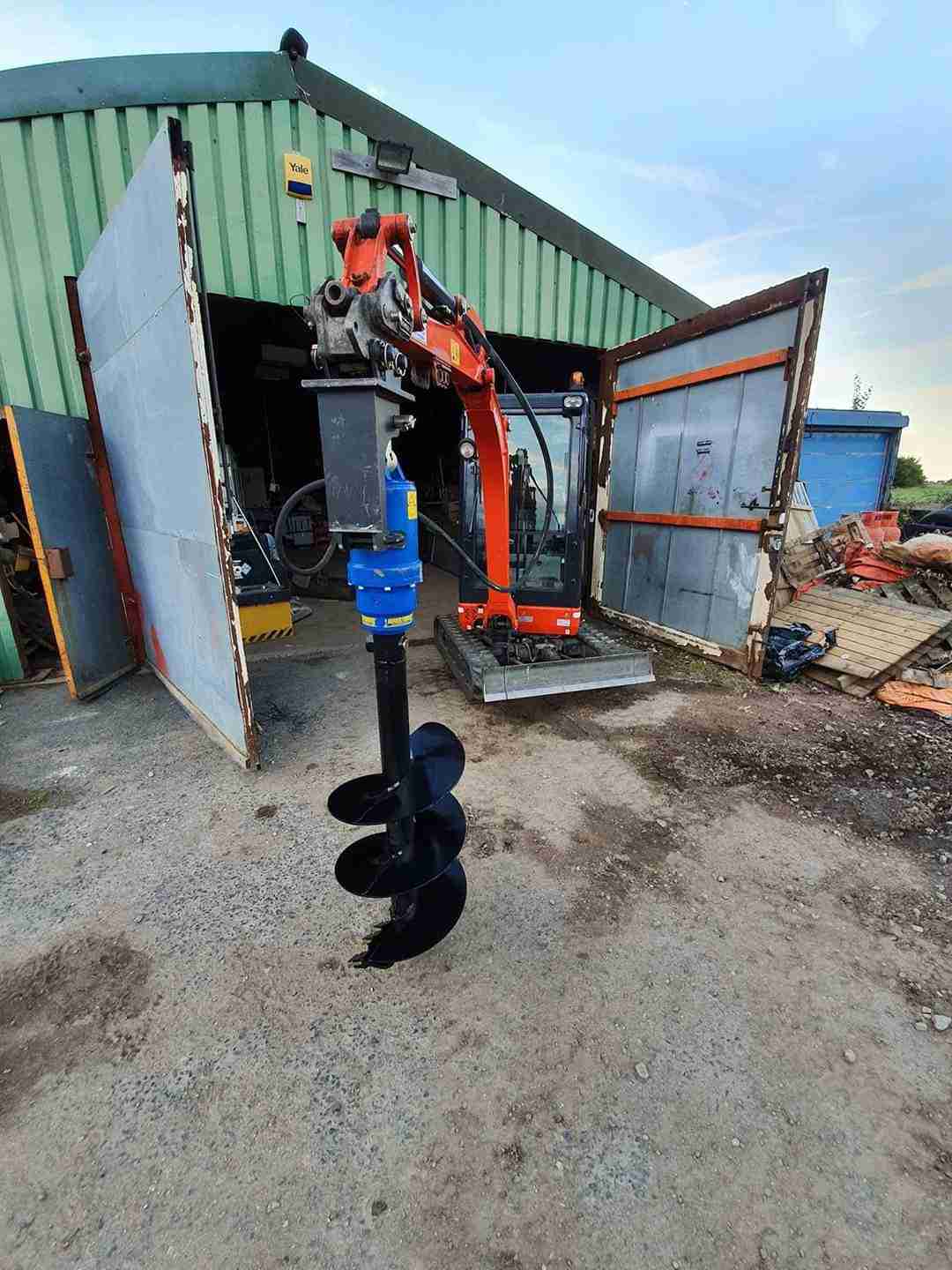 Is everything there ready to go?
Drive Unit, Hoses, Hitch Bracket and Auger are included in the X2500 auger package. The only additional thing you will require is suitable hydraulic couplers for your excavator – these are not supplied as standard with this package. We can supply these separately, if you know which size and style you require to suit your mini digger – hydraulic flat face quick release couplers.
What type of ground can I use this package on?
We supply this X2500 mini digger auger package with the S4 Tungsten Auger – the Auger Torque patented Shock Lock™ Tooth Locking System minimises the chance of tooth loss.
Tungsten Augers are best suited to dry, hard or medium ground conditions where floating rocks may be encountered. The perfect all-rounder auger option for mini diggers.
How do I know when to change the teeth and pilot, what should I be looking out for?
The Auger Torque S4 auger that is supplied as standard with this package comes with the ShockLock Tungsten Teeth and Tungsten Pilot. These are very hard wearing and capable of continuous use in hard ground conditions.
When the tungsten tips on the teeth and the pilot are worn off then it is time to change the wear parts on your auger. If in doubt – you are welcome to send us pictures of your auger and we can advise on the best action to take with regards to replacement wear parts.
You should never let your teeth and pilot become worn to the extent that it is causing damage to the tooth holder or pilot drive lug, as this can result in an expensive auger repair or replacement.
For example – the cost for a new set of teeth and pilot for a 300mm S4 auger is approximately £230, drastically cheaper than a replacement auger.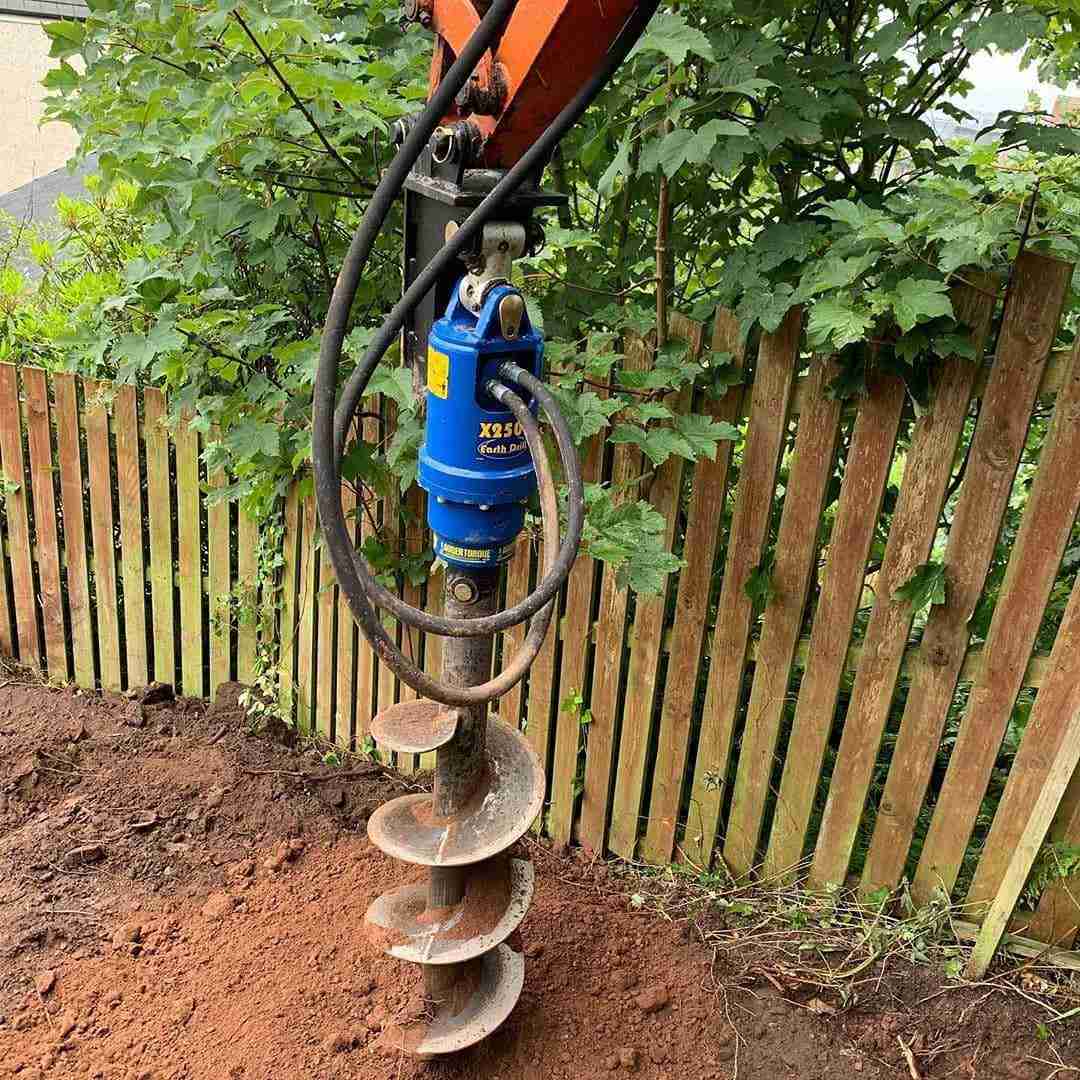 You offer a single pin hitch, why should I buy that one instead?
A single pin hitch offers a quick auger mounting solution that can be easily used with a variety of Auger Torque Earth Drills and excavators.
In this instance – the X2500 Budget Package represents a good saving, cost wise, against our standard X2500 Package. These are usually stock items that we can dispatch on a Next Day delivery service. The Auger Torque single pin hitch is designed for direct mounting on excavators without a quick coupler, the single pin hitch is not designed for use with an excavator quick hitch.
The drawback of the single pin hitch is that lack of control over the drilling string, there is no ability for the mini digger operator to control the direction of the auger when drilling or travelling around a job site.
If you feel one option is better than the other, please tell me why.
Our preference is always the cradle hitch option, when possible. We understand that it comes with increased cost however, we feel that the level of extra control and manoeuvrability offered by a cradle mounting solution make this the preferential option in the majority of cases.
What other attachments can I attach to my unit?
As distributors of the complete Auger Torque range of attachments, we have a variety of extra attachments available for your X2500 drive unit – the primary ones being our Stump Planer, Log Splitter and Mixer Bowl attachments.