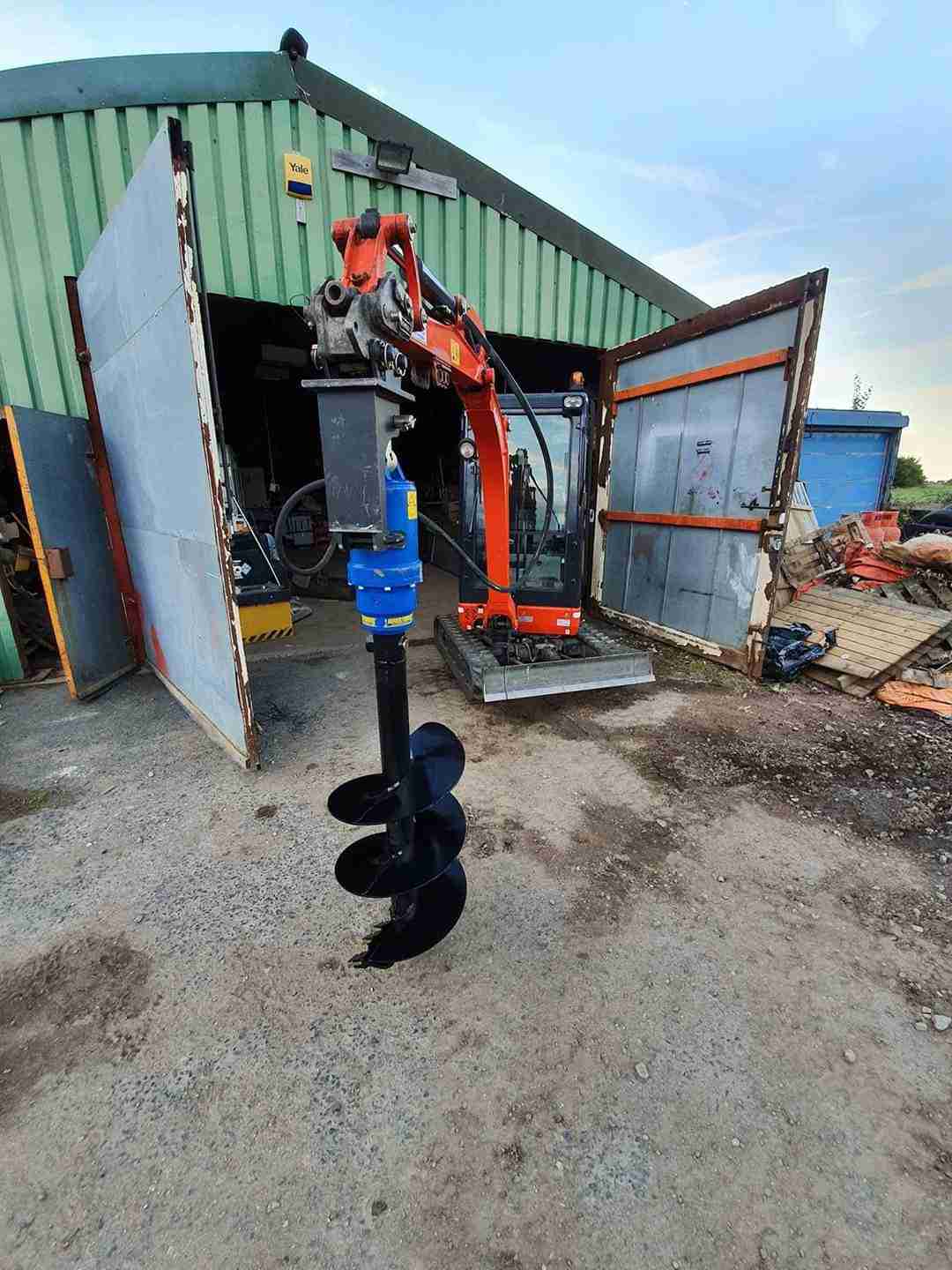 Auger Torque X2500: The Perfect Solution for Mini Digger Drilling
The Auger Torque X2500 is a versatile earth drill unit that is perfect for mini diggers in the 1.5t to 2.8t range. This unit is commonly used by fencing contractors, building contractors, landscapers, and hire fleets. Some of the most popular excavators it can be fitted to include the Bobcat E19, Takeuchi TB216, Takeuchi TB219, and JCB 8018 mini excavators. The X2500 package with a cradle hitch and tungsten auger up to 300mm diameter makes it the best option for drilling holes with your mini digger.
Setting Up the X2500 on Your Machine
The Auger Torque X2500 is easy to set up on your mini digger. The drive unit, hoses, hitch bracket, and auger are all included in the package. The only additional item you'll need is a suitable hydraulic coupler for your excavator, which is not included. The cradle hitch is fitted to the X2500 earth drill with a single bolt and a 32mm nyloc nut that can be tightened with an adjustable spanner. The hydraulic hoses are also supplied with the unit and are fitted with a male-male adapter that should be fitted to the X2500 side of the hose.
Ground Conditions for X2500 Usage
The X2500 package comes with the S4 Tungsten Auger, which is best suited to dry, hard, or medium ground conditions where floating rocks may be encountered. The patented Shock Lock™ Tooth Locking System minimizes the chance of tooth loss, making it the perfect all-rounder auger option for mini diggers.
Maintenance of the X2500 Unit
The X2500 earth drill unit is low maintenance but still requires regular checks for oil leaks and following the service schedules to ensure it runs smoothly. The supplied operators manual details the service and maintenance information for your unit. It is recommended to grease all grease points on the hitch bracket and linkage block weekly. The gear housing of the X2500 drive unit is filled with gear oil, which should be changed initially after 3 months or 200 hours, and then every 800 hours or 12 months thereafter.
Maintenance of the Auger
To maintain the auger, make sure the teeth and pilot are intact and replaced before they become overly worn. These are serviceable parts and easy to change, and all wear parts for Auger Torque S4, S5, S6, and PA Auger ranges can be supplied. When using the Auger Torque X2500 Earth Drill, ensure that the cradle hitch is only used to guide the auger when starting your hole and that it is not putting pressure on the back of the drive unit after the auger has started drilling, as this has the potential to cause damage and bending to your auger.
When to Replace the Teeth and Pilot
The S4 auger supplied as standard with the Auger Torque X2500 package comes with the ShockLock Tungsten Teeth and Tungsten Pilot, which are very hard wearing and capable of continuous use in hard ground conditions. When the tungsten tips on the teeth and the pilot are worn off, it's time to replace the wear parts on your auger. If in doubt, you can send pictures of your auger