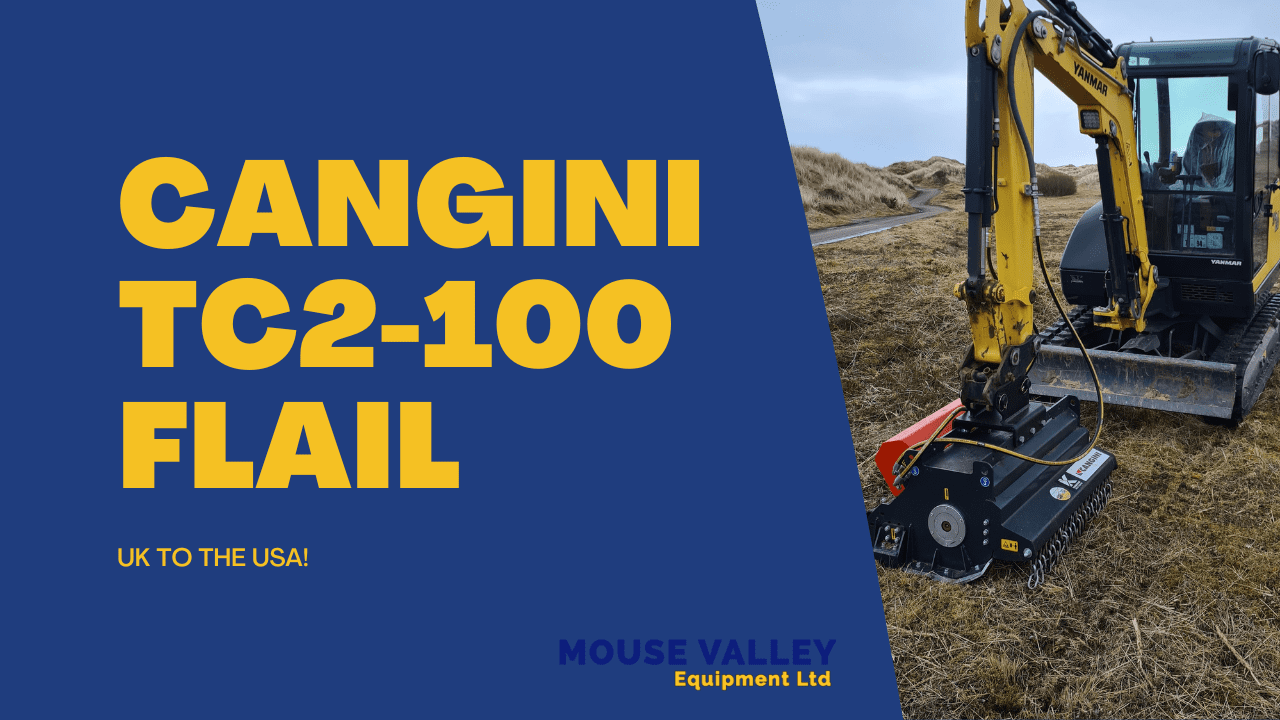 Packing an Order for Export: Cangini Mini Excavator Flail
At Mouse Valley Equipment, we're no strangers to sending our top-notch equipment across the globe. Today, we want to take you behind the scenes of packing another order for export to the United States: a Cangini mini excavator flail and log splitting cones.
Preparing the Shipment
With the high-quality Cangini flail and sturdy log splitting cones ready, the first order of business is to figure out how to fit these items in a wooden crate. This task is easier said than done, as we learned, especially when dealing with a pallet that is slightly longer than the flail. A little bit of pallet trimming and a change of plan later, we managed to fit the flail into the box while leaving it in its packaging to ensure it arrives in perfect condition.
Cangini TC2 Mini Excavator Flail
The Cangini TC2 is a top-of-the-line flail for mini excavators that we keep in stock. Equipped with swinging hammers, it's ready to tackle any terrain, ensuring smooth operation and exceptional performance. Our flails are always equipped with swinging hammers as standard, ensuring they're up to any task.
Packing the Flail and Log Splitter Cones
With the Cangini flail in the box, the next challenge was finding a way to fit in the three log splitter cones. Our initial plan to put a bit of timber in and place the cones on top didn't quite work out due to height restrictions. However, with a bit of custom joinery, we created a secondary shelf to separate the cones from the flail, ensuring both the flail and the cones would be secure and undamaged during their journey.
Finishing the Packing Process
The next day, with a fresh mind and a bit of coffee, we resumed the packing process. A few final touches later, including packing the hoses, bracket, and placing a bit of timber on top for additional protection, the package was ready. With a label in place, it was time to wave goodbye to the shipment as it began its journey to the US.
A Partnership Across the Pond
Our work doesn't end at shipping equipment. We're closely connected with our partners, like The Attachment Company in Denver, Colorado, where this shipment is heading. Operating similarly to us, they stock Auger Torque equipment supplemented with other attachments. They have a more significant focus on skid steer attachments, but the principle remains the same.
Have Questions about Exporting or Our Equipment?
We're always here to help! Whether you have questions about exporting, the Cangini mini excavator flail, or our other products, feel free to drop us a message or comment. We're always eager to share our knowledge and experience.
Get in Touch with Us
We're excited about the opportunities our Cangini flails can bring to your project. If you're based in the US and interested in trying out one of our flails, reach out to Andrew at The Attachment Company, or drop us a message. We look forward to providing the tools you need to succeed.